Yesterday, after a very long layover at Delhi airport  since KLM arrived too early, but Jet Airways was delayed several hours due to foggy wheather at Kathmandu, I arrived in Kathmandu around 11 h. Actually, that was not too bad since Ulrich and Ciprian both arrived just half an hour later, both on the same flight from Doha. We got to he Shanker hotel swiftly and unpacked. Namgya did not even take an effort to check my stuff and just told us that he would pick up the luggage for Tibet at 16 h. At 16 h he arrived with his younger brother Pasang who will join us as climbing sherpa.  Pasang being still in Kathmandu (instead in Tibet, where he was expected to be) is due to the Chinese authorities keeping the border shut, which, unfortunately, will delay our expedition a couple of days. The good news is that, as a consequence, the entire team is still in Kathmandu so we could have dinner together. Traditionally we have dinner with the team in Kilroy's, and so we did this time.
I've borrowed my daughter's little video-camera and obviously do not know how to use it properly as yet. Nevertheless, on the short video you can see the faces of all team members: from left to right, in the order of appearance: Ciprian, Prem (who will stay in Kathmandu as communications officer), Ulrich, Namgya (our sirdar), Dorjee (our chef), Dawa (one of our climbing sherpa) and Pasang (the other climbing sherpa).
This morning the good news arrived that the Chinese authorities will open the border in the next few days. Hence, Namgya, Dorjee, Dawa and Pasang took off early this morning.
Ulrich, Ciprian and myself went on the obligatory sight-seeing tour of Kathmandu with Suresh, a local guide. We visited Pashupatinath and Boudanath. I've visited both places before and both are obviously quite badly damaged by the earthquake from almost a year ago, but both are being rebuild.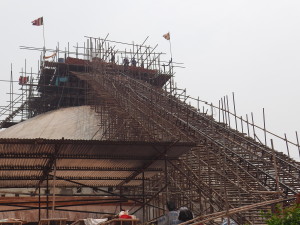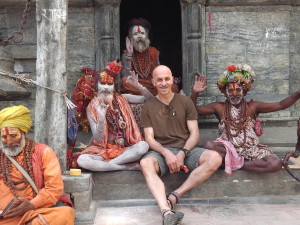 …