The Dutch Everest Expedition 2016 underwrites the UIAA Mountain Code, and in particular the Kathmandu Mountaineering Declaration and the UIAA Expedition Code.
UIAA International Mountain Code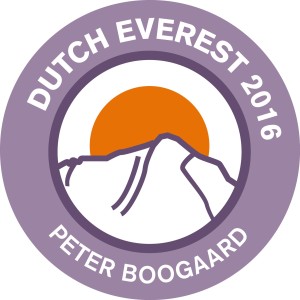 As a response to the growth of mountaineering the world body for mountaineers, the UIAA, has developed a simple, but very worthwhile code:
1. Observe restrictions and access agreement negotiated by National Mountaineering Federations, and avoid any actions which might endanger access.
2. Do not disturb nesting birds or other wildlife. Help protect flowers and respect sites of geological or other scientific interest.
3. Avoid actions which cause unnecessary erosion (such as taking shortcuts on footpaths) and do not leave unnecessary way marks.
4. Do not disturb livestock or damage crops or trees.
5. Do not leave any rubbish. Keep campsites clean. A void all risk of fire.
6. Where toilet facilities are not available, dispose of human waste in a sanitary manner (i.e. under rocks, soil, sand, or in deep crevasses, away from water supplies, paths or climbs).
7. Do not pollute fresh water supplies. Avoid any unnecessary pollution to the snow pack.
8. Respect established climbing traditions in ethical matters such as the use of chalk, pitons or bolts, etc. A void indiscriminate or excessive use of fixed equipment.
9. In mountain areas use motorised transport sparingly and park considerately. Make us of public transport if practical.
10. On any excursions to remote or high mountains observe the UIAA Kathmandu Declaration and Ethical Code for Expeditions.
UIAA Kathmandu Declaration
• Protect effectively the mountain environment, its flora, its fauna and its natural resources.
• Reduce the negative impact of man's activities.
• Respect the cultural heritage and dignity of local populations.
• Stimulate activities that restore and rehabilitate the mountain world.
• Encourage contacts between mountaineers of different countries, in a spirit of friendship, mutual respect and peace.
• Make available all information and education necessary to improve the relationship between man and his environment.
• Use only technology respecting the environment for energy needs and the disposal of waste.
• Support developing mountain countries in efforts for the conservation of the environment.
• Widen access to mountain regions unfettered by political considerations.
UlAA Ethical Code for Expeditions
1. Ensure all members of the team are aware of the regulations set by the host country, the objectives of the Kathmandu Declaration, and the UlAA Ethical Code for Expeditions.
2. Adopt a sporting approach to the expedition's objectives and not use equipment or other resources out of proportion to those objectives.
3. Conduct the expedition in a war that maintains the safety of its members and especially those it employs.
4. Whenever possible and appropriate provide technical advice and training to members of the expedition from the host country.
5. Give an accurate report about the expedition to the appropriate bodies.
6. Do not use equipment and materials owned by other expeditions without permission, and be prepared to help local people and other expeditions if the need arises.
7. Leave the mountain environment as clean as possible at the end of the expedition.