Carstensz Pyramid 2014
The Carstensz Pyramid or Puncak Jaya (= Victory Summit) is located in Papua on the Island of New Guinea and, with 4884 m, the highest peak of Australonesia.
I climbed Carstensz in 2014 and – like on any expedition -many unexpected things happened and things turned out quite differently than  foreseen…
The most impact had the fact that our Papua porters from the Dani tribe (around Sugapa) left us when we were about three days down in the jungle. Apparently there was some tribal war going on with the Moni tribe (around Ilaga, near Carstensz base camp) and our porters were afraid to enter Moni territory, but for one family. So we had to carry our own luggage, food and equipment etc. It was considered too dangerous to camp at Carstensz base camp, so we camped about two hours further at the territory of the Freeport mine (which is strictly forbidden for climbers…) to make our base camp at ~ 4000 m.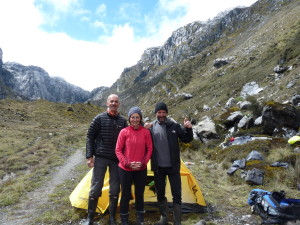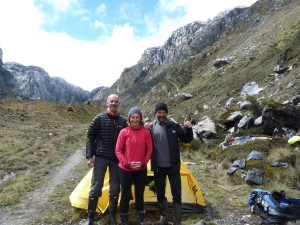 On July 10th we left base camp at 3:15 AM for a summit attempt. The wheather turned out pretty bad with lots of sleet and snow (quite uncommon so close to the equator). The actual climb – very nice technical climbing with a spectacular tyrolean traverse – was superb. Shortly before noon we reached the summit.
Unfortunately, when we got back to base camp, around 7 PM, the last porter family had disappeared and we were stuck at the mine. We ran out of supplies rapidly, but our guides bribed the security of the mine to get us food and fuel.
After 6 days, while we had just managed to arrange a helicopter to get us out in a couple of days (not an easy thing to do: there seem to be very few choppers around in New Guinea that you can rent), we were apprehended in our illegal camp at ~4000 m, by the Mine Security  and detained for trespassing. At the end of the day, when we had paid the fines, we were released at the other side of the mine at sea-level and could continue our way to Timika for the journey home.