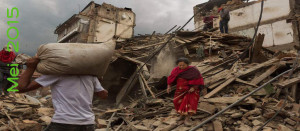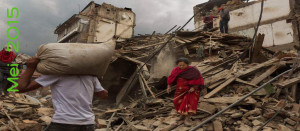 As you are all aware, the recent earthquakes have been catastrophic for Nepal. Although much acute help has been organized, support of the local population is still needed. Several people have asked me whether I could recommend some organization for donations. Actually, that is quite difficult since Nepal has no functional government and there is a lot of corruption. Moreover, a lot of attention is focused on Kathmandu, whereas the most serious damage is in the small villages higher up in the mountains, which are less accessible.
When I visited Wongmu in Kathmandu, she showed me pictures of Lukla, her hometown. She showed me that her family's house was severely damaged and that several other houses in Lukla were fully destroyed. Following the second earthquake, of which the epicenter was in Namche – only some 15 km North of Lukla – many houses that had survived the first quake, also collapsed.
Lukla plays a pivotal role in the region since it is on the the main pass that gives access to the Khumbu valley and Mt Everest. Many tourists, trekkers and mountaineers start their journey in Lukla and, as a consequence, rebuilding is essential to sustain the economy in the entire valley.
Hence, we've set up a fundraiser to help rebuilding Lukla called "Tiles for the Roof of the World"  (Dakpannen voor het dak van de wereld"). The average wage for a sherpa porter is about 3 €/day, which roughly equals the cost to place a tile on a roof in Europe. You can support this project by buying one or more 'virtual tiles' which each roughly equates a day if labour in Lukla.
If you want to buy one or more virtual tiles, please, transfer the money (3 €/tile) into bank account with IBAN: NL02INGB0003832551, P.J. Boogaard, with reference "Rebuilding Lukla". All donations will be transferred to Nepal where it will be used to rebuild Lukla, coordinated by Wongmu and Namgya. An independent third party will control that the money is well spent.