This morning, I'm leaving for New Delhi on KLM 871 for New Delhi from where I will –  after a long layover – fly with Jet Airways 264 to Kathmand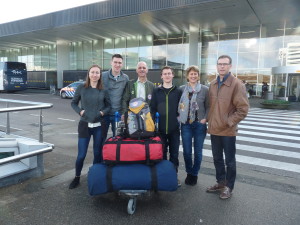 u.
The whole family dropped me off at Schiphol Airport, where Jetze, my climbing partner on the 2012 expedition, and Hester where already waiting to say goodbye.
Just chatted with Pasang: it seems the Chinese keep the border still shut until the 15th. This means that Namgya, Pasang, Dawa and Mingmar won't be able to travel to Tingri on time and the expedition may be delayed a little… The good news is that we will be able to meet up with the entire team in Kathmandu.