Peter Boogaard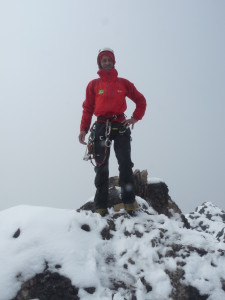 Having been active in mountaineering for more than 30 years, I probably have to admit that it has become a slightly deranged hobby…
For many years, I'm an active member of the Royal Dutch Mountaineering Society, both on the regional level and the national level. On the regional level, I'm heavily involved in the Rijnland Chapter (Regio Rijnland) where I'm the Learning Coach, assisting incumbent climbing instructors to fulfil their training and examination  requirements. I also have a couple of other tasks, such as managing and maintaining the materials depot and organising the annual bivouacs. At the national level, I'm active for many years as Alpine Instructor, teaching alpinism in Switzerland and Austria in the summer months, mainly in the youth programme. Furthermore, I try to get to the Alps regularly with my friends to climb interesting peaks.
I'm married to Aly, with whom I have two suns, a daughter, and a daughter-in-law. In my daily life I am the Global Discipline Lead & Manager Toxicology for the Royal Dutch Shell Group and also Professor of Environmental Health at the Division of Toxicology of Wageningen University. My job requires me to travel quite a bit and provided me with the opportunity to climb a number of beautiful mountains in both the Andes and the Rockies. So could I climb my first mountain over 5000 m in 1992, when teaching a course for Shell in Chile, and could I climb Longs Peak (4346 m), my first solo-ascent of a mountain over 4000 m, in 2008 when invited for a workshop organised by the US EPA in Rocky Mountains National Park.
Photos of many trips can be viewed on my facebook page and of course at this website under 'Seven Summits'.
The Seven Summits Project started in 2007 with a successful ascent of Mount Elbruz (5542 m, the highest peak of Europe) with the team of  Wilco van Rooijen (Elbrus Xpedition 2007). In 2009, I was asked to join the Dutch Denali Expedition to climb Mount McKinley or Denali (meaning "the high one" in the local language) and, with 6194 m, the highest peak of North America. After the successful completion of that expedition, I was hooked and determined to climb the remaining five of the Seven Summits…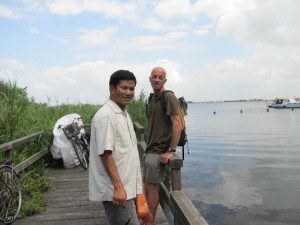 In 2010, I climbed the Aconcagua (6962 m), the highest peak on the globe outside the Himalaya's and the summit of South America, together with Jetze Tjalma. A year later, in 2011, I summited Mount Vinson (4982 m), the highest peak on Antarctica.
On Antarctica, I met Namgya Sherpa, one of the best climbers I know. During the discussions with Namgya in Vinson Base Camp, I realised that this was the man which whom I wanted to climb Mount Everest. Indeed, in 2012, Namgya was the sirdar of the Dutch Everest Expedition 2012 and guided Jetze and myself on Everest from the Nepali side. Due to unexpected extremely severe weather conditions in the night during which we tried to summit (snow, extremely low temperatures, and very strong winds) – my right eye froze and my cheeks were black and blistered from the frost – we decided to turn back at an altitude of ~8600 m.
In 2013, I climbed Kilimanjaro (5895 m), the summit of Africa, with both my sons (then aged 14 and 21 years). Finally, in 2014, I climbed the Carstenszpyramid (4884 m), the summit of Australonesia. In 2015, I did a new attempt to climb Everest. This time from the Tibetan side, and again with Namgya. We made very good progress and had already established Advanced Base Camp (~6500 m), when 25 April, the big earthquake hit Nepal. We were shaken in ABC, but the route still looked OK. The day following the earthquake we climbed to the North Col and it looked fine, however the weather turned bad and we decided to descend to Base Camp (~5250 m) to wait for the weather improving. Unfortunately, the Chinese army kicked us out and evacuated us to Lhasa.
Hence, I have climbed all Seven Summits, but failed tboth attempts to summit Everest. The Dutch Everest 2016 will be my third attempt to summit Everest, and I hope to do so again from the Tibetan side.
Namgya Sherpa
As indicated above, I've met Namgya on Antarctica when climbing Mt Vinson, and he has become a very dear friend. He can best be described by his own words: "Being born in the Himalayas of Kanchenjunga Region (home to the third highest peak in the world and the second highest of Nepal: Mt Kanchenjunga, 8586 m) we were untouched by modern development. As kids, life outside the Himalayas remained unknown to us, until one day when we encountered a few trekkers. It was then for the first time that we came across this magical instrument called 'camera' and I was left spellbound after seeing the pictures of the places completely different to those of the Himalaya region. Those tall, gigantic buildings, those wide and endless roads, those blue oceans which looked like the clear blue sky and those beautiful beaches sprinkled with sands like silver dust. I thought to myself: "Is this for real ?"…  Since then, I realised that beyond these hills lies an 'unknown world', a world which I had already started fabricating in my mind and exploring became my only desire…"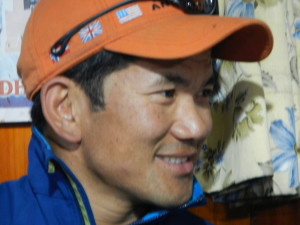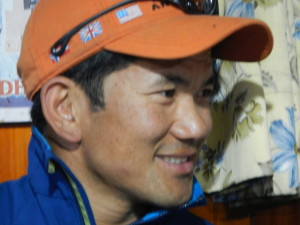 "With time, I grew up from a little boy to a tough man. However, my childhood dream of exploring the 'unknown world' still remained in me. So I took my first step towards my dream by shifting to Kathmandu, the so-called 'dream city' of every villager in Nepal. Though the city was at first not as kind as I expected it to be, I was not the type to back out. The only job which suited me at that time was that of a trekking sherpa. And little did I know at that time, that the job which I chose out of necessity would one day mean the world to me. For few years, I worked just to earn enough money so that I could follow my dream."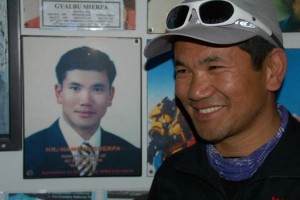 "In the year 2005, my hard work and devotion towards my work gifted me with the wonderful opportunity to travel overseas and visit the United Kingdom. It was then, I realised, that where you go is only half the experience. The other half is what happens to you there. This changed my concept of travelling entirely. Age might have started taking its toll over me, but underneath that rough and wrinkled skin was a newly born soul, full of enthusiasm and ability to experience more in life. I became like a modern Ulysses, always craving for more knowledge and nothing seemed to stop me. Since then I started enjoying my job: I started working not just to earn money but to earn satisfaction, the satisfaction of being able to turn dreams into reality. As founder of Grand Himalya Expeditions I share a dream of 'connecting dreams and reality'…" 
Namgya climbs each year with ALE (Antarctic Logistics & Expeditions), the very organisation I climbed with on my Vinson expesition. Last year was not different. Unfortunately, 25th of November 2015, when fixing the ropes on the head wall on Vinson, he slipped and fell 1020 m (!!!). He survived, but was totally bruised and he suffered from a complicated ankle fracture. He was extremely lucky that he could be transported to Base Camp and on to  Union Glacier within a day. The could fly him to Punta Arenas just a few days later and he was hospitalised there. Although the surgery was unduly belated, it went well and Namgya was recovering fairly well when he got a serious infection in his arm from the intravenous drip. After 33 days he was finally released fom hospital, but had to stay around for some time before he could finally fly back home in January. He is recovering well, but not sure he can join me all the way up to the summit.
Ciprian Iuliu Patrascu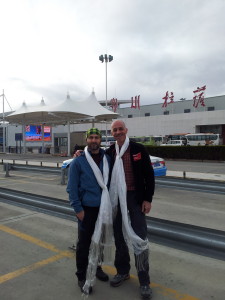 Ciprian is from Romania and also climbing the Seven Summits. We first met in Kathmandy just prior to the beginning of the Dutch Everest 2015 Expedition. We did some tourim together in Kathmandu and Lhasa and then went to Everest Base Camp. Unfortunately, Ciprian developed some health problems when we climbed to Intermediate Camp for the first time and was advised by his doctor to return. Since then, he climbed Denali (Mt McKinley) and seem totally prepared to try Everest again. Ciprian has his own web page.
Ulrich Sterzl
Ulrich will join the team up to Advanced Base Camp, from where he will attempt to climb Lhakpa Ri a peak, not far from Everest, of 7045 m, which is known as 'the easiest 7000-er to climb'.