After a couple of days in EBC, we plan to move to ABC tomorrow (Monday 25/4). Last Thursday we performed the Puja ceremony together with the Indians (who are with Arun Trekking and we share quite a few things). The Indians started feasting the night before and went totally wild. After the ceremony (in which Kande, one of our Tibetan kitchen boys acted as lama) the obligatory pictures were taken. In our group picture from left to right: Ulrich, Namgya, Ciprian, Dawa, me, and Pasang.  Several Indians wanted to make a selfie with me, according to Ciprian I have a semi-hero status with them as th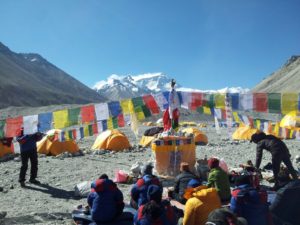 e super-fast-climbing Dutchman. At both sides of EBC there is a mountain of about 5800 m which are perfect to climb for acclimatisation. On Friday many teams climbed the one on the East side.  Ciprian had left early and Ulrich wanted to do something easier,  so I climbed alone.  Soon I lost not only my brand-new sun cap in the gusty wind but also the way…. I roughly knew where to go but ended on a rocky wall. It was only about 40 m high so I decided to climb it (not knowing that Namgya was watching from EBC and totally disapproved as too dangerous). The good news was that once I had cleared the wall, I also had passed the Russian, Swiss and Canadian team and was the first on the summit. One of the Canadians took a picture of me with Everest in the background.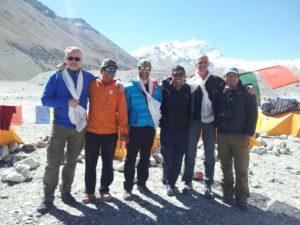 Saturday both Ulrich and Ciprian felt still too exhausted to climb the other mountain on the West side. None of the other teams apparently planned something.  Dawa and Pasang, together with Sambe, one of our Tibetan kitchen boys,  had left to prepare ABC. Kande, our other kitchen boy, was busy. Namgya told me I could not go alone and that he would arrange a boy from Arun. So I climbed with Ladja, an extremely skinny Tibetan teenager who didn't speak a word of English.  I tried to persuade him that it was not a good idea to cross the glacier river since it was some 50 cm deep at least.  So we went a bit down where the river split and Ladja simply walked on his gympies through both 30 cm deep streams. I managed to keep one foot dry in the first but that got soaked in the second. So I started climbing with boots full of icy water. Ladja rushed up the mountain at an incredible speed. We covered the first 400 m up in less than an hour (which is even in the Alps quite respectible) and I tried to convince Ladja to calm down a bit. Big smile and he rushed on.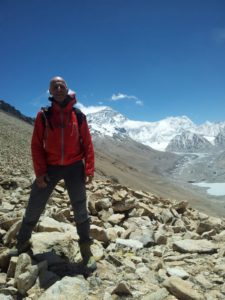 We reached the summit in less than 2 h and then rushed down, waded through the glacier river and were back in 3 h. Namgya had given me the radio so I could warn him before we would go down, so Dorjee could prepare us a late lunch. I didn't bother to use it as we were back more than an hour before lunch… At least it gives me the confident feeling that I am pretty well acclimatised.  As said, we plan to climb to Intermediate Camp tomorrow and then on to ABC the day after  Hopefully the weather ameliorates a bit because there is a continuous strong wind with hefty gusts that has prevented Dawa and Pasang, who have reached ABC by now,  to put up any tents. Last night they have sheltered with the sherpas of another team. As of tomorrow there won't be any easy communication anymore and I will be totally relying on the satphone.