Yesterday (18 Jan) was officially the last day of my quarantine and the folks from the medical department had promised to come test me early morning so the result would be available in the evening. However, it turned out that all members of the 'testing squads' were found positive themselves the day before. As a consequence, there was no personnel to go around taking samples. Finally, yesterday evening, two ladies showed up to take a sample. However, the test result was not reported today despite the promise that it would be delivered within 24 hours. It seems they are totally disorganized and it is extremely frustrating that after being 8 full days in quarantine in Leh there is still no result.
Nevertheless, we plan to leave tomorrow but with an adapted itinerary. In the original plan, we would drive only to Chilling and trek from there, along Markha river, to Skiu. Since this trek is mostly at the same altitude as Leh (and I think I've acclimatised already to this altitude with my illegal hikes), we will now drive up all the way, via Kaya and Skiu village, to Thinlaspa, close to Markha (~ 3750 m) and camp there overnight. From there we will hike the next day via Hankar to Thochuntse (~ 4300 m), camp there overnight and subsequently follow the original itinerary to Kang Yatse base camp. This way we will gain one or two days of time compared to the original plan which should give us sufficient time despite all the time lost due to the quarantine. In addition, we plan to make only one camp at ~ 5550 m instead of the two originally planned camps at 5400 and 5750 m.
This afternoon, we met for the first time with the complete team at the Padma Ladakh hotel: Nantak, our cook, Jigmat, the kitchen help, and Tsewang and Mingma (who is released from quarantine today). Tsewang and Mingma will climb with me. In fact, Tsewang replaces Rigzin who had a dislocated shoulder a while ago and cannot join, but takes care of all the organization. We discussed the best route and approach, the shopping needs etc. In addition, Rigzin informed us that the horsemen are ready with 5 horses to take our equipment from Markha to base camp.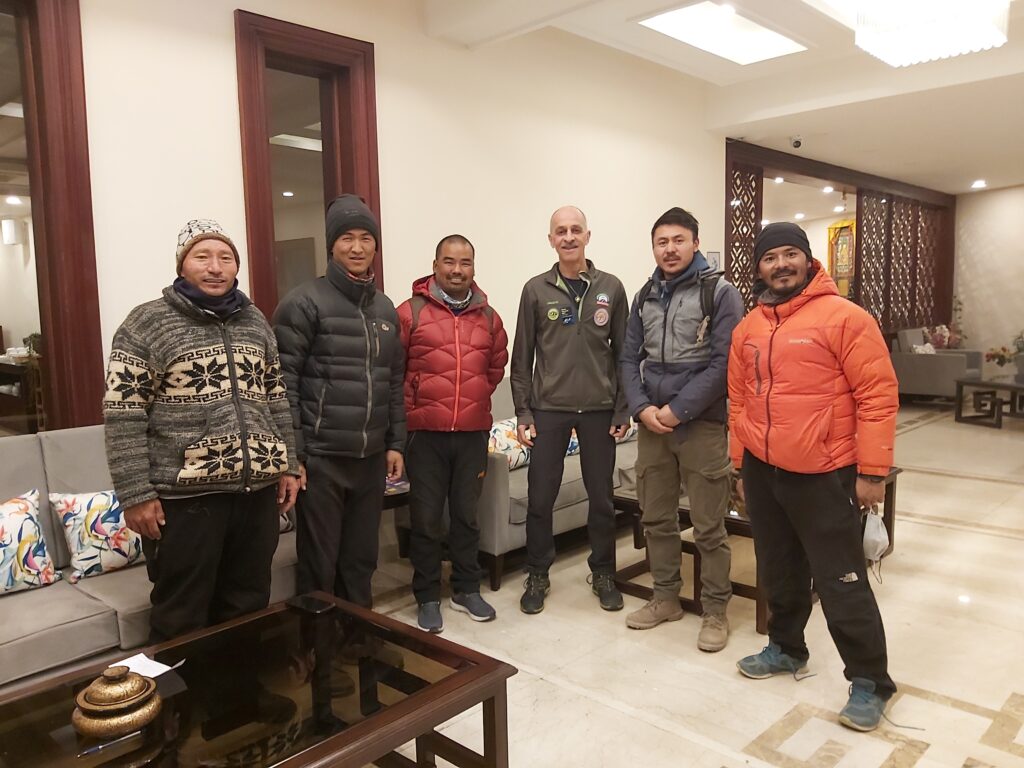 This evening we had the big celebration for the team that climbed UT Kangri. It was a very nice evening with lots of speeches, drinks and food, and – of course – many, many pictures taken. The UT Kangri team will leave tomorrow before we (hopefully) will finally take off.