Yesterday, we hiked from Samdo to Samagaon (3538 m), only 8 km and mainly downhill, so we arrived within 2 h. Although just a short distance, I couldn't have done it on the same day that we crossed Larkya La, which was 24 km already with a significant part above 5000 m.
Over the past days we have essentially hiked a great right-turn around Manaslu, close to the Tibetan border. Occasionally, I had a glance of Manaslu, like in Bhimthang, where you can see the northface of the mountain, and Pemba pointed out where we would build our camps. Here in Samagaon, you can glimse the eastface although the mountain is in the clouds most of the time (it's very foggy here, if not raining). My acclimatisation seems to go well, apparently the strategy (climbing to 4000+ m and sleeping at ~3700 m twice, followed by climbing to 5100+ m and sleeping at ~3850 m) works well. I had no single sign of altitude sickness or dizziness at 5000+ m and last night my heart rate dropped to 47 bpm while sleeping.

Samagaon is the most northern village in this region and has elecricity and even internet (if the sun shines since it operates on solar energy). Yesterday, our supplies arrived, so I have my own sleeping-bag again ! We intend to stay here for another two days since the logistics for getting the stuff to Manaslu Base Camp (MBC) are still being sorted out.
This morning, I was woken up with a lot of noise at sun rise as sherpas started sorting out the materials for MBC just outside my room. After Tibetan bread and cheese omelet (my favourite breakfast) Pemba and I went for a touristic tour. At the centre of Samagaon a barren of mules was being packed with supplies for MBC I also met Mingma, the sherpa who will be responsible for our logistics. Pemba and I passed a large monastery climbing up to Birendra Tal (tal means lake) from where you can see the track up to MBC. On the way up, Pemba did his first good deed of the day by helping an old lady setting up her flag-pole. On the way down Pemba took me to a shabby house, where we sat in the kitchen. Pemba did his second good deed by re-kindling the fire, after which the lady of the house made us the local specialty: salty butter tea. I could watch the entire process, including the addition of half a handful brown salt. Tibetan salt, Pemba assured me very special! From its looks it contained at least a dozen rare earths, but the salty butter tea actually tasted very good. [It took me several days to convince Pemba that I don't want sugar in my coffee, nor in my black tea, not even in my lemon tea… he only got it when I pointed out that he puts honey on his Tibetan bread while I put salt on it].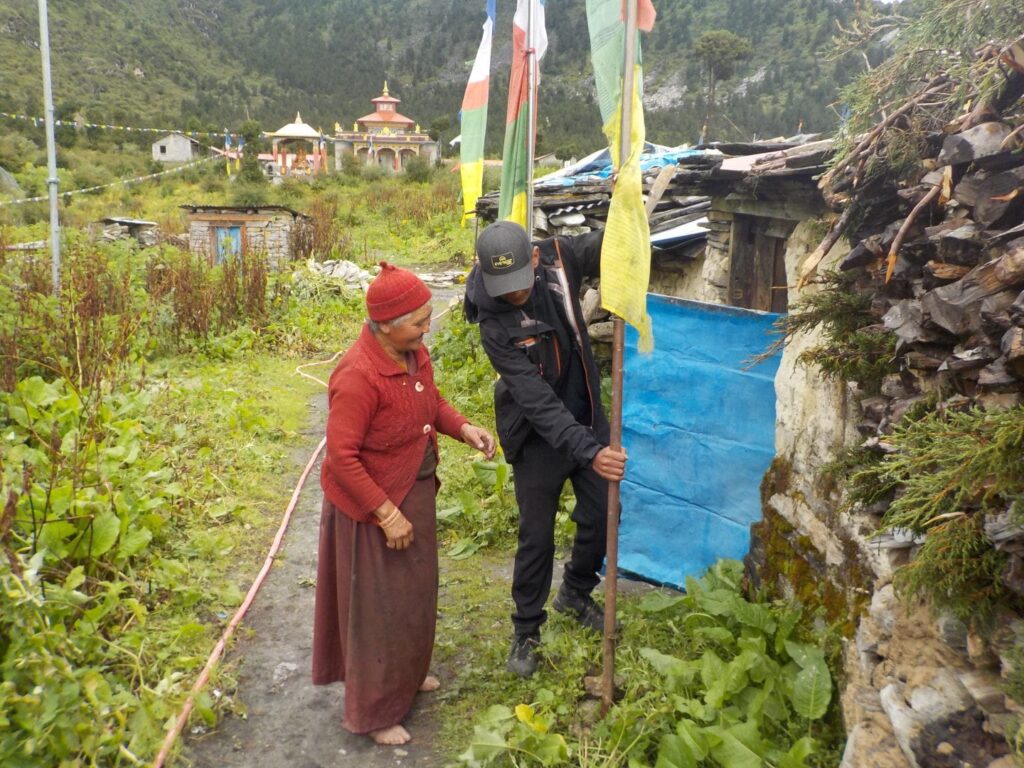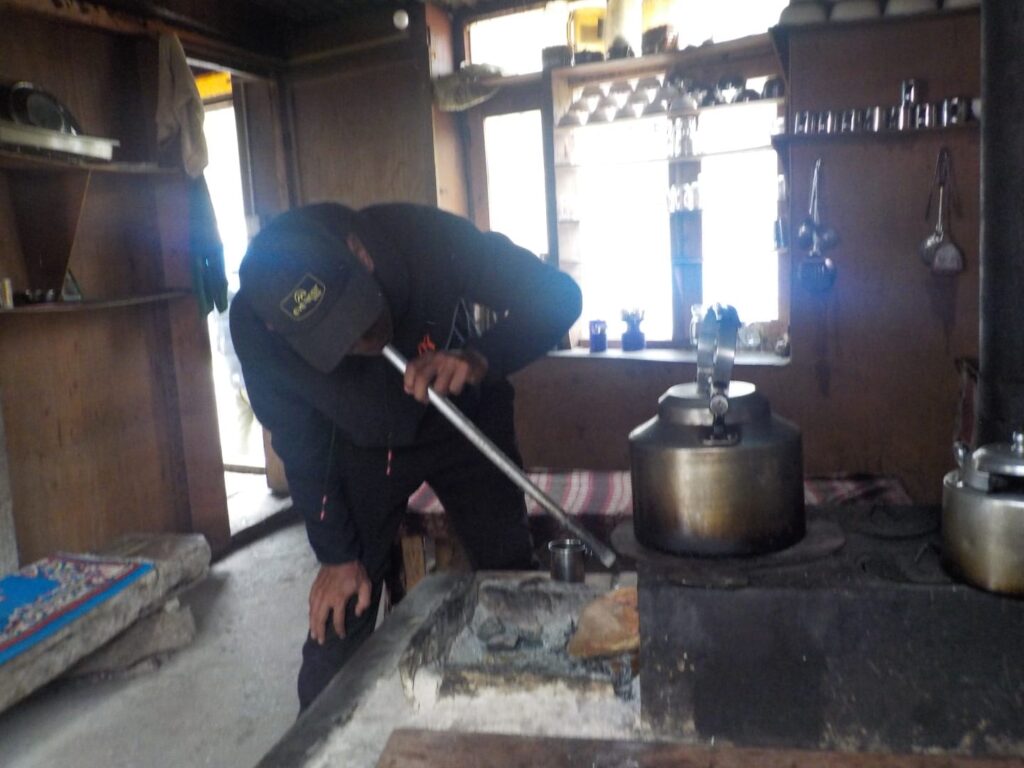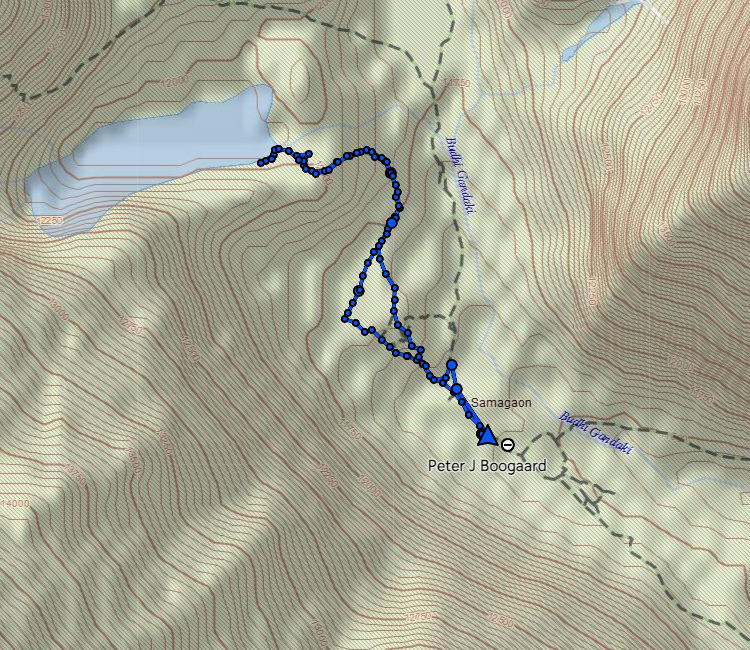 After pizza for lunch, we went on the second touristic trip. We walked down the valley to the next settlement, Shyala, via a couple of suspension bridges over waterfalls. Unfortunately, it rained almost all the time. However, the trip was most certainly worth the effort as we spotted a syala (jakhal)) just outside the old gate of Shyala.