Sunday morning around 9:30 h, I was fetched by Pemba Nuru in the hotel to go to Namgya's place to see Wongmu with both their daughters, Tashi and Yangkeela. We chatted a bit and Wongmu showed me pictures of her home-town Lukla where the earthquake had far greater impact than in Kathmandu. In Kathmandu you could see an occasional house  being destroyed by the quake, but the overall picture was of a normally functioning city. However, many people sleep in tents (put up in gardens and the city parks) as they are afraid of new quakes and after-shocks.
It seems that the villages surrounding Kathmandu and higher up the mountains  have been more severely hit by the disaster than Kathmandu itself, and – since most roads have been blocked by land-slides, broken bridges etc. – these villages are hard to reach to bring support.
We had lunch, cooked by Pemba who also takes care of his 9-month old niece, and after l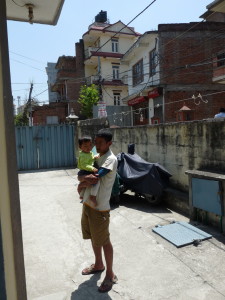 unch I went back to the hotel to pack my stuff and leave for the airport. After a pretty un-eventful flight with Air India to Delhi and onwards with the KLM to Amsterdam, I arrived yesterday safely back home.
This morning I spoke with Namgya. EBC has completely be dismantled and all sherpa's are now in Tingri. They expect to be transported by the CMA to Lhasa in the next few days and to fly from Lhasa back to Kathmandu this Sunday.