In my previous post I have been too optimistic. The evacuation from EBC was apparently more complex than foreseen. We had to be ready at 6 AM last Thursday, but the Chinese army showed up only at 8:30… We moved about a kilometer and then had to wait for the liaison officer, Mr Lee. After three quarters of an hour it seemed all paperwork had been done and we left EBC direction Tingri, where we arrived well after  noon. 'We' is about three dozen climbers of various organisations that were in EBC. In Tingri the CMA (Chinese Mountaineering Association) took over and, actually, they did a marvellous job.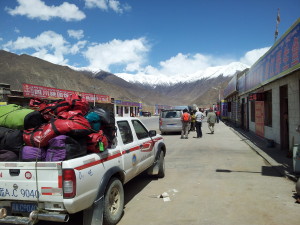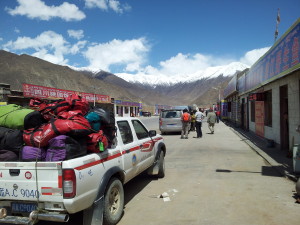 Since the speed limit in Tibet is 60 km/h, we did not reach Lasha the first day, but only got as far as Shigatse. We stayed in the same lodges as on the way in, and actually I was quite happy with that since they have showers there and after more than two weeks without any shower, it felt really good to be under the rather sparse water. The next morning we would leave for Lhasa at 9 AM, but before everybody was there, it was well after 10 AM. We needed to go to the police station to sort some visa issues out. Not really to my surprise (Ciprian and I had been there….) these visa issues took more than three hours, so we returned to the lodge for lunch and actually left for Lhasa only at 14 h. Around 19 h we finally arrived at Lhasa. Again we stayed in the same lodge as on the way in.
The first flight to kathmandu was May 3rd, I was told and everyone had settled for that date. Later in the evening I learned that, by mistake, there was made an internet booking for May 2nd and that they would try to change it to my name. It should be done at the airport and if it failed they would take me back to the lodge.
Bo and I, together with two of the Indians, went to see the old city of Lhasa and then went to some little bar to drink some wine. We had a very good time downtown Lhasa. This morning we got up early and went for breakfast. At 8:30 h I thought I'd better inform when we would leave for the airport. It turned out that that would have been 8 AM…. The CMA, however, is very flexible and they took me in a 4WD to the airport. We coukd indeed change the ticker to my name and within an hour I had boarded China Airlines 407 for Kathmandu; we were about a dozen passengers in an Airbus 319…. That Kathmandu  airport is still not functioning properly showed as we had to circle 45 min over Kathmandy before we could land. I tried to reach several contacts of Namgya in Kathmandu, but could not reach anyone. Hence, I just got a taxi from the airport to the Woodland Hotel. Luckily that was still fully functioning and around 14 h I was in my room, with my stored luggage etc.
I had contacted KLM and they could provide a flight from New Delhi to Amsterdam, but not for Kathmandu-New Delhi. Fortunately, the hotel staff was very helpful and, assisted by the travel agency next door to the hotel, I managed to get a ticket on Air India for tomorrow. So the current plan  is that I'll fly tomorrow afternoon to Delhi and then very late night with KL 872 to Amsterdam.
In the mean time I've had contact with Namgya: he managed to get our mountaineering equipment from ABC to EBC. Furthermore, the CMA has organised that all sherpa's can fly from Lhasa to Kathmandu in the next week as long as the road to Nepal is blocked (I've been told there are 17 land slides on the road, in addition to some destroyed bridges).
While typing this post, I was called by Wongmu, Namgya's wife, who invited me to have dalmat at her home tomorrow before I leave for the airport. It seems that despite all trouble over the past few days, everything turns out quite well, and I expect to be back in Amsterdam May 4th.