After being dismissed from the hospital, I went to Hotel Manaslu since the Shanker hotel was fully booked. The accident while descending from the summit had wrecked both my phones and they had stopped working. My first concern was to get them fixed so I could communicate more easily (and stop borrowing Wongmu's or Arien's phone). It took me about a day and several visits to local phone shops, but at the end of the day both worked properly again ! After 2 days, Namgya had returned from KBC and came to the Manaslu with Billi Bierling to record all details of our expedition for the Himalayan Database. Moreover, Namgya had also arranged that I could move to the Shanker hotel.
One of the last evenings in Kathmandu, I went over to Namgya's house for dinner with his family and both Pemba Nuru and Lakpa. This gave me the opportunity to thank both for their splendid work in getting me down after the accident.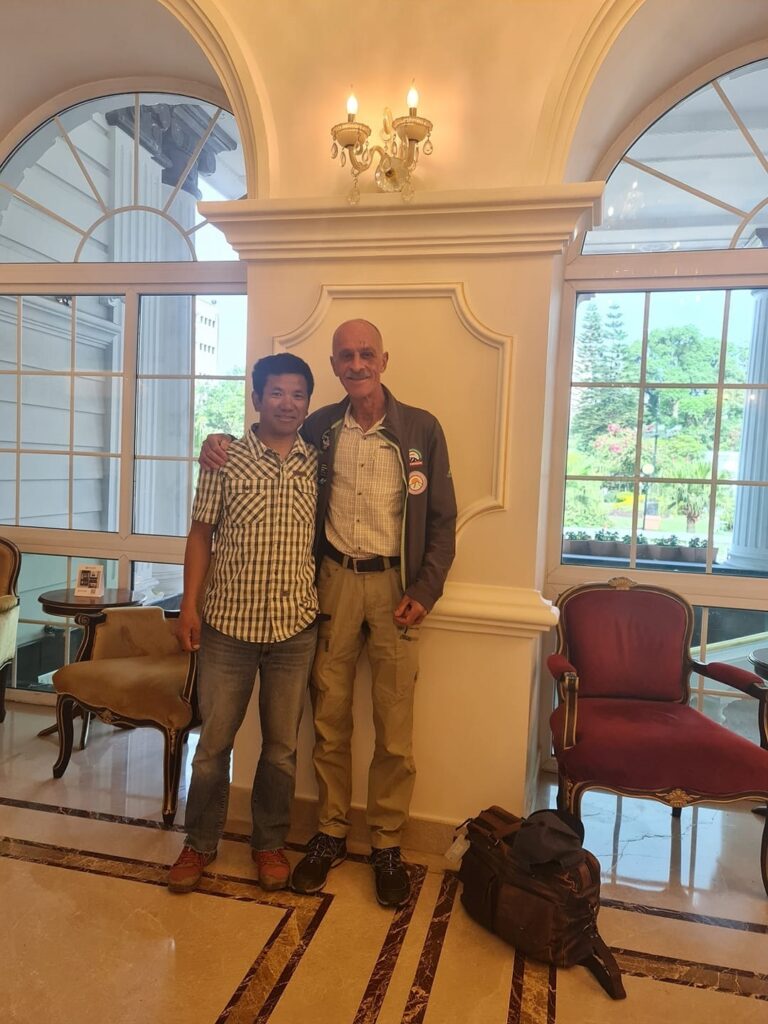 I could change my ticket with KLM and fly back already on the 18th of May. Namgya picked me up from the Shanker and brought me to the airport. I had a pleasant flight to Dubai, where I stayed for the day, and subsequently flew to Amsterdam. Surprisingly, I had the same flight attendant as on the inbound flight. She not only recognised me (after more than 6 weeks!) but presented me again with a bottle of my favourite wine…
Our flight arrived very early at Amsterdam airport where Aly and Arend were waiting for me. After dropping my luggage at home, I went straight to the Academic Hospital in Leiden as my ophthalmologist had agreed to see me prior to the regular appointments. My eyes were thoroughly checked and it seems that there is no permanent damage to my eyes as a consequence of the accident. The sight in my right eye is fully back and the sight in my left eye still improving.