This morning (Thursday) we left for EBC, at Tingri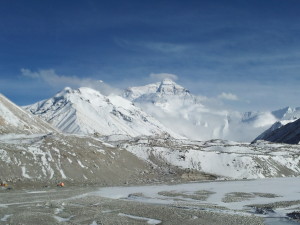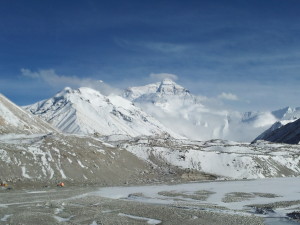 the roads end and I know now the real use of a 4WD… The 75 kn to EBC took about 3 h. We had a spectacular view on Cho Oyu (8200+m) which rose majestically at the horizon. At EBC, I was warm-heartily welcomed by Landuk,  who was also the EBC chef in 2012 and he remembered my preference for coffee and fries…  Since Namgya was early we have a fantastic site. At the end of the day the skies opened up and we could see our goal at some 16 km distance….

Today (Friday) Ciprian and I climbed with Nima   the other climbing sherpa, a nearby mountain to acclimatise. We did very well as we passed all groups that had left before us and reached 5775 m as firsts. The winds are terribly strong. Last night it froze some 10 degrees inside our tent but today is much colder and this afternoon we had fresh snow.